CONVERT YOUR BATHROOM TO ADD VALUE TO YOUR HOUSTON HOME
Houston is one of the most architecturally innovative cities in the United States, so why not match its magnificence with your home? If you're like most homeowners, your home is one of your most valuable assets.
Consider updating your bathroom with a bath conversion if you want to improve the aesthetic and value of your home!
Converting your bathtub to a shower – or vice versa – may appear to be a difficult task for some contractors, but not for Sothern Belt Construction.
We are a leading bathroom remodeling company in Houston and can meet all of your requirements. Whether you want a traditional or modern bathroom, our company and designers will collaborate with you to make your vision a reality!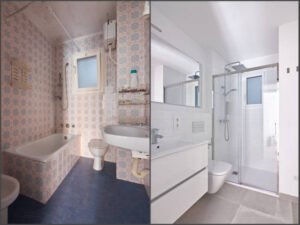 When it comes to bathroom conversions, you'll want to make sure you're hiring the most experienced and trustworthy bathroom contractor. After all, your home is a big part of your life, and your bathroom should be a safe and functional space for everyone in your family.
Fortunately, Sothern Belt Construction specializes in making your bathroom look and function beautifully while adhering to your specifications. We are able to do so because:
Only Hire Experts

Our team is qualified to assist you with your remodel. In fact, our top three managers have a combined total of more than 55 years of experience in the home improvement industry.

Family Operated

Our family-owned company understands the value of happiness. From our family to yours, we will do everything in our power to make your home happy.

Our team at Sothern Belt Construction has been in business in the Greater Houston Area for the last 20 years!

Our years of experience will be evident in our services.

Earned an A Rating

The Better Business Bureau assigns ratings to businesses based on their abilities and quality. We have an A rating because we always put the customer first.

Are Committed to Customer Satisfaction

As stated in our mission statement, we strive to make each customer happy with our high quality and integrity standards.
Sothern Belt Construction is an excellent choice for the best bathroom makeover in Houston. Our team's goal is to provide you with the best bathtub replacement, shower replacement, or accessible remodel possible. Instead of entrusting your home to inexperienced contractors, hire the best company for the job—you'll find that with Sothern Belt Construction.
CONTACT YOUR HOUSTON CONTRACTOR RIGHT NOW FOR A BATH CONVERSION QUOTE
Rather than being dissatisfied with the current state of your bathroom, have it remodeled today to make you happier and more satisfied in your own home! Sothern Belt Construction can make it happen if you need an accessible bathtub replacement or if you want to replace a filthy tub with a modern shower.
Are you eager to learn more?
Call now for a free quote or fill out our online form to get more information from our Houston bathroom remodelers!