Bath Construction Houston | WITH A BATHROOM EXPANSION, YOU CAN CREATE YOUR DREAM SPACE
Houston Bathroom Remodeling | BATHROOM SHOWER & BATHTUB REMODELING
With a custom bathroom design and remodel extension from Southern Belt Construction, you can make room for all of the luxuries and features you desire. You can also save on your Houston bathroom remodeling with us.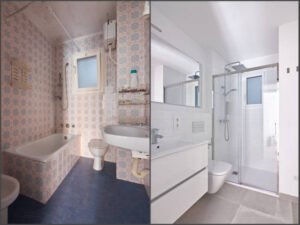 BATHROOM REMODELING HOUSTON|  HOUSTON BATHROOMS
If the issue with your bathroom is one of space rather than one of style, a Houston master bathroom addition could serve as the foundation for a luxury bathroom remodel, allowing you to enjoy the features and amenities you desire.
Southern Belt Construction is the area's go-to source for high-end bathroom remodeling, and our team of designers and builders collaborate with you to create a one-of-a-kind space that reflects your personal style.
Over the years, we've assisted many discerning homeowners in selecting the high-end fixtures and finishes that elevate a renovation from mediocre to spectacular. Throughout our history, we have maintained an A rating with the Better Business Bureau, demonstrating our unwavering commitment to providing exceptional service and exceeding our client's expectations. We offer services for everything you name including kitchen remodeling bathroom expansion & remodeling, and more!
Is a home expansion the best option for you? Southern Belt Construction offers options that go beyond simply adding a few feet. We are able to:
Increase the Size of an Existing Bathroom

Convert a Half Bath to a Full Bath
A Houston bathroom renovation that includes an expansion gives you complete control over the design and features like windows, and we'll walk you through the process from beginning to end, ensuring a pleasant experience and an outstanding final result.
LEARN MORE ABOUT OUR EXCLUSIVE HOUSTON BATHROOM EXPANSION SERVICES AND BATHROOM REMODELING COSTS..
BATHROOM REMODELING PROCESS | Bathroom Addition Cost
Here's the bad news about adding a bathroom addition and the bathroom remodeling process: It is costly. According to HomeAdvisor and other bathroom addition contractor resources, the average new bathroom addition cost is $35,000, but it can range from $20,000 to $90,000. But, before you abandon your addition totally, there's some good news: you won't have to figure out how to uncomfortably restructure your home around your new bathroom, and the extra square footage increases your property's resale value significantly.
Ask our experts about our bathroom remodeling Houston services, bathroom remodeling costs, and more! We provide services for home remodeling kitchen remodeling, shower remodeling, bathroom expansions, bathroom remodeling outdoor services, and more.
When dealing with bathrooms and having a bathroom renovation, beauty and function are equally important, and Southern Belt Construction masterfully blends the two. For more information on our luxury bathroom remodeling services, please contact us. To get started, give us a call today or fill out our online contact form.