EXPERTLY INSTALLED PREMIUM REPLACEMENT TUBS
BATHTUB REPLACEMENT IN HOUSTON
Your bathtub might be one of the most underappreciated luxuries in your home. The benefits of bathing in warm water are numerous. It can relieve stress and aching muscles, as well as leave you feeling clean and refreshed. If you don't already have a tub in your home, it may be more affordable than you think to install one in your home. Alternatively, if your existing tub has seen better days, it may be time to upgrade or replace it.
If your tub has become too damaged to repair, it may be necessary to replace it. If it continues to show signs of mold or mildew, this could be a sign that the finish has deteriorated. The presence of cracks in your tub and the presence of mysterious pools of water on your bathroom floor after you take a bath are also indicators that you need to replace your tub.
The good news is that replacing your tub will provide you with the greatest number of options for personalizing your bathroom. The bad news is that replacement bathtubs is also the most expensive option, which is a bummer.
With Southern Belt Construction's full project support and expert workmanship, you can enjoy a stunning Houston bathtub replacement.
When updating your home, you choose every perfect finish, hand-pick each fixture, and demand only the best products for your replacement—don't settle for less when it comes to installing a replaced new bathtub.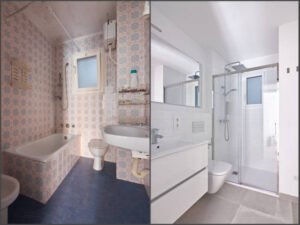 Is Replacement of your Bathtub even Needed?
It means we can walk you through the bathroom remodeling process and make sure your renovation has the tailored look and functionality you desire.
Southern Belt Construction understands that details matter, and we'll work with you to find a tub replacement that complements the other design elements in your wall and shower space. Our team has been serving Houston for many years, and our top management has over 20 years of new remodel and project combined experience.
NEW BATHTUBS IN A VARIETY OF STYLES AND COLORS
Southern Belt Bathroom Construction will go above and beyond to provide:
Help from Skilled Design Professionals

Full Project Support High-Quality Products from Reliable Brands

Excellent Workmanship by Skilled Bathtub Installers
A Houston bathroom renovation that includes an expansion gives you complete control over the design and features, and we'll walk you through the repair process from beginning to end, ensuring a pleasant experience and a perfect final result.
SCHEDULE A FREE CONSULTATION FOR PREMIUM HOUSTON BATHROOM REMODELING
The Luxury Bath Process – New Tub and Replacement
The success of your bathroom renovation is dependent on a variety of factors, and Southern Belt Construction will expertly bring the entire project together. We have an A rating with the Better Business Bureau and have established ourselves as one of Houston's top bathroom remodeling companies. Call us today to find out more, or fill out our online contact form to set up a design consultation.