BATHROOM REMODELING THAT DELIVERS QUALITY, FROM NEW SHOWERS TO VANITIES.
BATHROOM REMODELING IN HOUSTON
Southern Belt Construction has the ideal remodeling solution for you, whether you need new tiling, a fixture replacement, or a complete redesign of your space.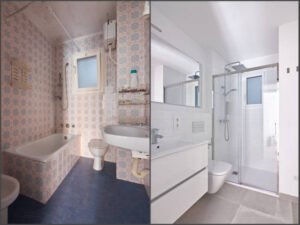 Our bathroom designers create works of art in bathrooms, shower and powder rooms in your home. Among our services are:
Renovating and remodeling bathrooms

Whether you want a classic or modern bathroom, our designers and installers have the vision and expertise to satisfy you. For examples of our work with tiles, showers, bathtubs, vanities, and sinks, please see our gallery.

Bathroom additions

Let's make your bathroom more spacious if it's too small. Increasing the size of your bathrooms is a great idea.

Bathroom upgrades

With an extra bathroom, you can make your family's mornings more enjoyable. Bathrooms can be added on any floor of the house, including basements.

Adding or replacing bathtubs and showers

Our new showers and baths will breathe new life into your home.

Vanities and countertops for bathrooms

Excellent vanities and countertops set the tone for your bathroom and add beauty for years. Call us today to find out how we can revitalize your bathroom!
Fortunately, Sothern Belt Construction specializes in making your bathroom look and function beautifully while adhering to your specifications. We are able to do so because:
Only Hire Experts

Our team is qualified to assist you with your remodel. In fact, our top three managers have a combined total of more than 55 years of experience in the home improvement industry.

Family Operated

Our family-owned company understands the value of happiness. From our family to yours, we will do everything in our power to make your home happy.

Our team at Sothern Belt Construction has been in business in the Greater Houston Area for the last 20 years!

Our years of experience will be evident in our services.

Earned an A Rating

The Better Business Bureau assigns ratings to businesses based on their abilities and quality. We have an A rating because we always put the customer first.

Are Committed to Customer Satisfaction

As stated in our mission statement, we strive to make each customer happy with our high quality and integrity standards.
CONTACT YOUR HOUSTON CONTRACTOR RIGHT NOW FOR A BATHROOM CONVERSION PROJECT QUOTE
Essential Bathroom Renovation Tips
There's something unique about a fantastic bathroom. Do you ever return to your seat in a restaurant or hotel and feel forced to say something about how nice the toilets are? It's simple to feel calm, pleased, and a little bit fancy when we're in a gorgeous bathroom.
You could be feeling overwhelmed by the options if you're browsing for bathroom remodeling ideas. Magazines and websites dedicated to bathroom renovations are brimming with magnificent designs, one as gorgeous as the last. So, which one is the best fit for you?
We're drawn to bathrooms that have been painstakingly constructed to fulfill our needs flawlessly, despite the fact that it's typically subconscious.
A lot of thought goes into designing a bathroom that makes you smile every time you go into it.
1.) Create a Remodeling Budget
When you have the chance to turn your home into the exact style you choose, you are investing in both your home and yourself. Remodeling your home or bathroom may be as expensive as you want it to be, and without a firm budget, prices can quickly escalate.
The idea is to do some research on custom building costs in your area, create a reasonable budget, and then try to stick to it. If you hire a renovation contractor or a design-build firm that offers fixed prices rather than estimations, this will be much easier.
Bathroom remodels can rapidly become costly, owing to labor costs and, to a lesser extent, material costs. Top bathroom general contractors and the certified subcontractors with whom they collaborate are highly skilled and in high demand. You'll need to take in the expense of anything from tiles to a bathtub if you want to renovate your existing bathroom to higher-end materials.
You'll need to think about a few things when making your budget:
Do you plan to sell in the next few years?
Do you wish to relocate items that have been plumbed in?
What are the components of the new bathroom that are definitely necessary?
What can you afford to put your money into?
2.) Select the Type of Bathroom
Bathrooms come in a variety of designs, sizes, and configurations. You're unlikely to modify the type of bathroom you have when you rebuild. However, before you set your thoughts in stone (or grout! ), it's a good idea to consider all of your possibilities. An skilled interior designer can assist you in seeing alternatives you may have overlooked. A tiny half bath, for example, may be turned into a sumptuous master suite by repurposing space from a walk-in closet or a bedroom.
Standard Bathroom
A standard bathroom, often known as a full bath, has a sink, toilet, and a bathtub, shower, or both. Some older homes had only one full bathroom, which the entire family was supposed to share.
Master en-suites offer the same basic characteristics as regular en-suites, however they are only accessible from the master bedroom. When remodeling or building a master room, many homeowners opt for a lavish spa-like atmosphere. Skylights, a soaking tub, and a separate steam shower come to mind. A well-designed master suite can provide a relaxing retreat at home.
A master suite can usually be added to a home if one does not already exist. This frees up the current standard bath for family usage and eliminates long shower lines in the morning.
Half Bathroom
A half bath, often known as a powder room, is a small room with only a sink and toilet. If you live in an older Seattle home with only one full bath, installing a half bath could make a huge difference in your life. If you have dinner guests, they can utilize the powder room instead of invading your personal bathroom space. Similarly, if you have overnight guests, it can relieve some of the strain on your main bath if everyone is trying to get ready at the same time in the morning.
One of the nicest aspects of a half bath is that it doesn't take up a lot of space. Half baths have been squeezed into the tiniest of spaces, including closets and underused corners. Adding a half bath to your property can increase its value while also making your life easier.
Wet Bathroom
A wet bath is a whole bathroom with a shower that isn't in a separate cubicle or hidden behind a curtain. The floor, cupboards, and walls of wet bathtubs are all entirely waterproofed.
One of my favorite bathroom design ideas is to create a wet room. Without any bulky shower doors to get in the way, it may seem sleek and modern. It is, nonetheless, extremely practical. You won't have to worry about water splashing on the floor or walls because they're completely waterproof. Because there are no curbs or other obstructions to prevent someone with reduced mobility from properly entering and exiting the shower, wet tubs lend themselves nicely to universal design principles.
Another benefit of wet baths is that they make good use of available space. If you're remodeling or adding a bathroom to your house, space is limited, and a wet bath method allows you to pack more into a smaller space by eliminating the need for a shower frame or stall.
Wet tubs are more expensive, but they are a great investment and the most long-lasting way to design a bathroom.
3.) Select Durable Bathroom Materials
Every day, bathrooms are subjected to a great deal of abuse. They must be able to withstand extreme temperature changes, as well as considerable humidity variations and direct contact with water. Bathrooms must also be easy to clean, resistant to harsh chemicals, and appealing to the eye.
It's a difficult task!
Knowing where to save money and where to invest money on high-quality materials is crucial to getting the most out of a bathroom remodel. Cutting corners on materials can often wind up costing you a lot more in the long run because they will need to be replaced in a few years.
The most durable bathroom materials will keep their appearance for much longer, and some will even last a lifetime. They'll keep their high-end appearance and won't be prone to moisture problems.
In your design, make sure to choose high-quality, non-porous tile. Porcelain is frequently a fantastic option.
Avoid low-cost particle-board cabinets, which swell and collapse quickly in wet situations. Similarly, solid wood trim is preferable over MDF.
Most porcelain sinks and cast-iron tubs will last for years, even if they aren't the most expensive, but stay away from cheap fiberglass or acrylic surfaces.
Invest in high-quality plumbing fixtures with solid brass mixing valves, which will last a lifetime against inexpensive plastic fixtures that will likely fail within a few years.
4.) Adding a Bathroom
Are you constructing a new bathroom from the ground up? Adding an extra bathroom to your home will not only alleviate the morning battle for bathroom access, but it will also raise the value of your property.
A new bathroom will necessitate the design and installation of a complete plumbing system. While this is a large project, it allows you to design your new area precisely how you want it.
You can save money by combining projects.
Consider upgrading your other bathrooms at the same time that you install a new bathroom. You'll already have a slew of subcontractors and inspectors in your house, and merging jobs can save you money.
5.) Consider Bathroom Accessibility
It's a good idea to think about accessibility while upgrading your bathroom. While the prospect of being disabled or less mobile may seem far off, adopting a few basic precautions now can save you money in the future.
Today, accessibility does not always imply the installation of grab rails. Instead, you can install blocking under the drywall to support future grab rails. A walk-in, curbless shower is also a lovely choice with the added bonus of being handicapped accessible.
Considering accessibility when upgrading your bathroom can be a simple and proactive move, ranging from slip-resistant tiles to wet-room designs.
Remodeling with Care
Rather than being dissatisfied with the current state of your bathroom, have it remodeled today to make you happier and more satisfied in your own home! Southern Belt Construction can make it happen if you need an accessible bathtub replacement or if you want to replace a filthy tub with a modern shower.
Are you eager to learn more?
Call now for a free quote or fill out our online form to get more information from our Houston bathroom remodelers!